Dallas Center for Dermatology and Aesthetics
8201 Preston Road #350
Dallas, TX 75225
Phone: (214) 631-7546
Fax: (214) 631-8546
Monday–Friday: 8:30 a.m.–4p.m.

BOTOX® Cosmetic & Dysport® in Dallas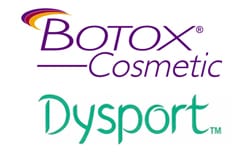 If you're searching for a way to look naturally more refreshed, consider a simple Dysport or BOTOX treatment performed in the Dallas Center for Dermatology and Aesthetics office. Both of these FDA-approved products help to soften facial expression lines around the forehead, eyes, and mouth without surgical intervention or unnecessary downtime. Our board-certified dermatologists have extensive experience performing these treatments and even share their expertise by training other physicians.
Visit us in Dallas to see if BOTOX or Dysport treatments may be right for you. People from Plano, Frisco, and surrounding communities visit us to look naturally refreshed without surgery. Request a consultation online or call (214) 631-7546. When you schedule a consultation for cosmetic procedures, you will also receive a customized "Total Skin Rejuvenation" plan to help you achieve your best complexion.
How Do BOTOX & Dysport Work?
BOTOX and Dysport are actually made using a purified toxin that is naturally produced by the bacteria clostridium botulinum. The neurotoxins used in both these products work by temporarily interfering with the signals nerves sent to the small muscles responsible for facial expressions such as squinting and frowning. The weakened muscles relax, which softens or eliminates the wrinkles caused by contractions of these muscles. These innovative non-surgical wrinkle treatments have created a lot of excitement among cosmetic dermatologists and their patients who seek to reverse the visible effects of aging on the face.
This type of medication has been used by ophthalmologists and neurologists since 1980 to treat lazy eye, eye spasms, and certain other neurologic disorders.
Dr. Stetler and her dermatology practice are top notch – always on top of the latest innovations, extremely professional, and very informative."
Your results may vary. Read more patient reviews
We Are a National BOTOX Training Center
Creating a natural – not frozen – appearance requires using a conservative approach when administering Dysport or BOTOX injections. In fact, our aesthetic center is a National Training Center for both Allergan® and Galderma Laboratories, the makers of BOTOX and Dysport. Dr. Stetler and Dr. Polder are recognized experts in the use of injectables and frequently educate physicians across the country in the proper use of these treatments.
Our BOTOX patients can earn rewards through the Brilliant Distinctions® program to make future treatments more affordable.
What Do BOTOX & Dysport Treat?
BOTOX or Dysport injections are ideal for those men and women who want to treat dynamic wrinkles (see illustration), including:
Frown lines between the eyebrows
"Crow's feet" around the eyes
Deep forehead furrows
Because the results of these treatments are temporary, injections need to be repeated on average every 4 months. However, the effect may last longer with each repeat injection. You can learn more about BOTOX and Dysport below.
BOTOX for a Gummy Smile
BOTOX is best known for treating wrinkles. But the versatile product is approved by the FDA to treat many other conditions. BOTOX is now commonly used on patients who are bothered by the appearance of a "gummy smile." Our doctors carefully inject BOTOX into the upper lip muscles, temporarily paralyzing them and preventing the contraction of the upper lip when smiling, to prevent the gummy smile. Scroll through our BOTOX before-and-after photos above to see patients treated at our practice; the results are remarkable.
Can BOTOX Cosmetic Treat Other Conditions?
In addition to the FDA-approved uses for BOTOX Cosmetic, our dermatologists treat additional conditions under their expert guidance, including:
Excessive sweating (hyperhidrosis) of the underarms, feet, palms, and face
Sagging brow for a nonsurgical brow lift
Enlarged masseter muscles for jawline slimming
TMJ (temporomandibular joint disorder) and bruxism (grinding and clenching the teeth)
Vertical lines around the lips (smoker's lines)
Chin dimpling
Neck banding
Chronic migraines
Results are temporary but may be continued with maintenance treatments as directed.
How Long Does BOTOX Last?
Noticeable results may last as long as 4 months, but individual results vary. With strategic follow-up treatments, you can continue to enjoy a smoother, more youthful look without interruption. Some studies have shown that results can last longer with repeated treatments. If you are interested in an ongoing treatment plan, your doctor will discuss your options with you.
Combining BOTOX With Other Treatments
BOTOX or Dysport can be combined with other procedures such as laser resurfacing, chemical peels, and dermal fillers to provide even better, longer-lasting results. Patients concerned about a double chin can now get KYBELLA® injections for a slimmer facial profile. Some patients choose to have resurfacing procedures first to minimize the wrinkles and then receive BOTOX or Dysport treatments to prevent their return. Such a combination procedure is often called a liquid facelift, and our doctors can tailor it to meet a patient's precise goals.
An ideal cosmetic procedure is one that:
Is safe
Has few side effects
Requires little to no recovery time
Is inexpensive
Is reversible if the results are unsatisfactory
BOTOX and Dysport each meet these criteria and consequently, many are enthusiastic about their use.
BOTOX Cosmetic FAQ
If you're considering having a BOTOX treatment, you probably have some questions about the procedure. That's why we have provided this resource. Below, you'll find helpful answers to a number of questions about this popular treatment.
Is BOTOX Cosmetic safe?
BOTOX has been used for decades to treat a variety of medical conditions, and it is FDA approved for the treatment of forehead wrinkles. Although side effects can occur, BOTOX has been proven safe when properly administered by a trained, experienced physician dermatologist here in Dallas. Dr. Stetler and Dr. Polder train other physicians in the use of BOTOX at their practice in Dallas, Texas, which serves as a national education center for the makers of BOTOX and Dysport.
How much do BOTOX and Dysport treatments cost?
Our prices for BOTOX and Dysport treatments depend on a variety of factors including the targeted areas, number of areas being treated, and individual needs. We encourage you to make an appointment for a cosmetic consultation to create a custom treatment plan and discuss pricing in depth.
We participate in the Brilliant Distinctions® program for savings on future treatments. While it may seem advantageous to get a good deal on your treatment, your results and safety depend on the training and experience of your injector.
Do BOTOX treatments hurt?
Discomfort is brief and minimal for most patients, and treatment usually lasts only about 10 minutes. For greater comfort, the treatment area can be numbed with a cold pack or topical anesthetic. After the procedure, you may experience localized tenderness or pain, but this should be temporary.
When can I expect to see results from BOTOX?
Each person's results will vary, but most people experience a visible reduction in their frown lines within 3 to 5 days. The lines will continue to decrease, with final results sometimes taking up to 2 weeks to emerge. Rarely a person's body can build up immunity to the formula used in BOTOX, in which case the treatment will not have any effect.
How do you make your BOTOX last longer?
Individuals who get BOTOX regularly tend to see that their results last longer between treatments. To maintain your results, follow-up treatments will always be needed.
Can BOTOX help prevent wrinkles?
Because BOTOX is used to soften lines and wrinkles caused by repeated muscle contractions, it can be used proactively in younger people to prevent these concerns from forming in the first place. Without the repeated contractions of certain facial muscles, such as the ones that create crow's feet and frown lines, the skin does not undergo repeated creasing and remains smooth. At what age should you start? It depends on a variety of factors, including the condition of your skin, your lifestyle (Do you spend time in the sun without sunglasses? Do you drink through a straw often?), and the facial expressions you frequently make. If you have concerns, our doctors can help you decide.
What's the difference between BOTOX Cosmetic and Dysport? Which is right for me?
BOTOX and Dysport are quite similar. Both are a form of botulinum toxin type A and achieve similar results, but their formulations and consistency differ somewhat. The more important distinction is whom you select to provide your treatment. Our doctors are skilled injectors, and each is an experienced board-certified dermatologist. They can use BOTOX and Dysport strategically for different areas and aesthetic issues. They will help you decide which option is best for your needs and skin type.
How do I know whether BOTOX or a dermal filler is right for me?
Dermal fillers, such as JUVÉDERM® and Restylane®, work differently than BOTOX. Fillers diminish wrinkles and restore facial volume, while BOTOX relaxes the muscles that cause lines and wrinkles. Some fillers also trigger the production of collagen. Our doctors will sometimes use dermal fillers and BOTOX, injecting them in different areas for more complete rejuvenation. Talk to your doctor about what's right for you.
If you have more questions or are ready to get started with BOTOX, visit the Dallas Center for Dermatology and Aesthetics. You can request a consultation online or call (214) 631-7546. When you schedule a consultation for cosmetic procedures, you will also receive a customized "Total Skin Rejuvenation" plan to help you maintain a beautiful complexion.
Back to Top