Dallas Center for Dermatology and Aesthetics
8201 Preston Road #350
Dallas, TX 75225
Phone: (214) 631-7546
Fax: (214) 631-8546
Monday–Friday: 8:30 a.m.–4p.m.

HydraFacial is an invigorating, versatile facial treatment that restores the skin's vibrant tone and texture instantly. Hydration is a critical part of maintaining healthy, youthful-looking skin. The non-invasive HydraFacial offered at the Dallas Center for Dermatology and Aesthetics exfoliates the skin and nourishes it with essential nutrients in a single treatment.
Learn more about how a HydraFacial treatment can help smooth your skin by requesting a consultation online or calling (214) 631-7546 to make an appointment. We serve men and women from throughout Plano, Frisco, and other Dallas communities. When you schedule a consultation for cosmetic procedures, you will also receive a customized "Total Skin Rejuvenation" plan to help you achieve your best complexion.

Photos Courtesy of HydraFacial MD®
Keep in mind that each patient is unique and your results may vary.
What It Treats
HydraFacial's versatility makes it the go-to treatment for a number of skin conditions. Because even patients with sensitive skin can tolerate the procedure, just about everyone is a good candidate for the HydraFacial treatment. Various serums are available, and your treatment can be customized to meet specific needs.
Skin conditions that can be alleviated by a HydraFacial procedure include:
Uneven texture
Oily, congested skin that's prone to acne
Dry skin by removing dead skin cells and providing hydration
A HydraFacial treatment firms and tones the skin, improving its texture and the skin's overall health.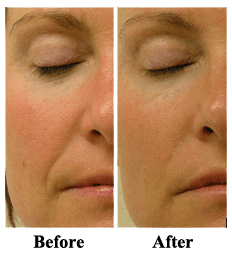 Photos Courtesy of HydraFacial MD®
Keep in mind that each patient is unique and your results may vary.
Notice the patient's nasolabial fold has softened after 5 HydraFacial treatments.
How It Works
Dry, wrinkled, or dull skin can make you appear older than you feel. Sun damage and other environmental factors age our skin, sapping it of the moisture and natural nutrients that keep it smooth and glowing. Even for young patients, dullness can undermine the look you want to achieve. A HydraFacial, stronger than a basic facial but gentler than skin resurfacing, is a relaxing way to combat those concerns.
At our Dallas practice, HydraFacial treatments work by extracting the impurities damaging our skin and replenishing beneficial elements that protect and strengthen it. Specifically, HydraFacial uses a serum and delivery protocol to restore:
Antioxidants: These key chemicals help protect and repair skin cells by isolating damaging free radicals.
Peptides: These amino acids boost the production of collagen and elastin, which help keep skin looking smooth and youthful.
Hyaluronic acid: Naturally produced by the body, hyaluronic acid is responsible for giving skin volume.
Our team can customize your treatment to target your precise concerns.
What to Expect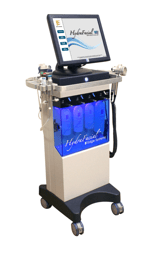 What sets the HydraFacial treatment apart from other skin rejuvenation procedures is a unique system that delivers nourishing serums. The process typically takes about 30 minutes and is suitable for all skin types. It includes the following steps:
Exfoliation: A cleansing serum removes dead skin cells and exposes healthy skin.
Peel: A blend of glycolic and salicylic acids works like a superficial peel, loosening dirt and other impurities without causing redness or irritation.
Extraction: A patented suction tool clears out pores without pain.
Hydration: A serum delivered into the skin using a special handheld tool provides lasting protection and nourishment.
Because the treatment is non-invasive and gentle, our patients can immediately resume their daily activities after completing the procedure.
Popular Pairings
A HydraFacial produces impressive results on its own, but we also recommend pairing it with other skin rejuvenation treatments to enhance their results. We can use it to prime the skin before any of the following treatments:
Back to Top