Dallas Center for Dermatology and Aesthetics
8201 Preston Road #350
Dallas, TX 75225
Phone: (214) 631-7546
Fax: (214) 631-8546
Monday–Friday: 8:30 a.m.–4p.m.

At the Dallas Center for Dermatology and Aesthetics, we are excited to offer body contouring with EMSCULPT to the women and men who visit from Frisco, Plano, and other Dallas-area communities. EMSCULPT is the first and only FDA-cleared, non-invasive body shaping procedure that simultaneously addresses both muscle tone and excess fat. This latest innovation uses HIFEM® (High-Intensity Focused Electromagnetic) energy to induce powerful muscle contractions to build muscles and burn fat.
How Does EMSCULPT  Body Contouring Work?
The EMSCULPT machine introduces a first-of-its-kind application of a unique magnetic field. HIFEM technology harmlessly penetrates the skin to impact fat, as well as muscle tissues. Once it penetrates the skin, the energy induces 20,000 supramaximal muscle contractions that are accompanied by a rapid metabolic reaction in fat cells to not only strengthen and build muscle but also reduce fat.
Muscles represent about 35% of the human body, but other body contouring treatments like CoolSculpting® only address fat.
EMSCULPT is the ONLY technology that builds muscle and burns fat simultaneously, all while leaving the surrounding tissues unaffected.
Which Areas Can EMSCULPT Improve?
Abdomen
EMSCULPT is FDA-cleared to improve abdominal tone and strengthen the abdominal muscles to help men and women achieve next-level, contouring results.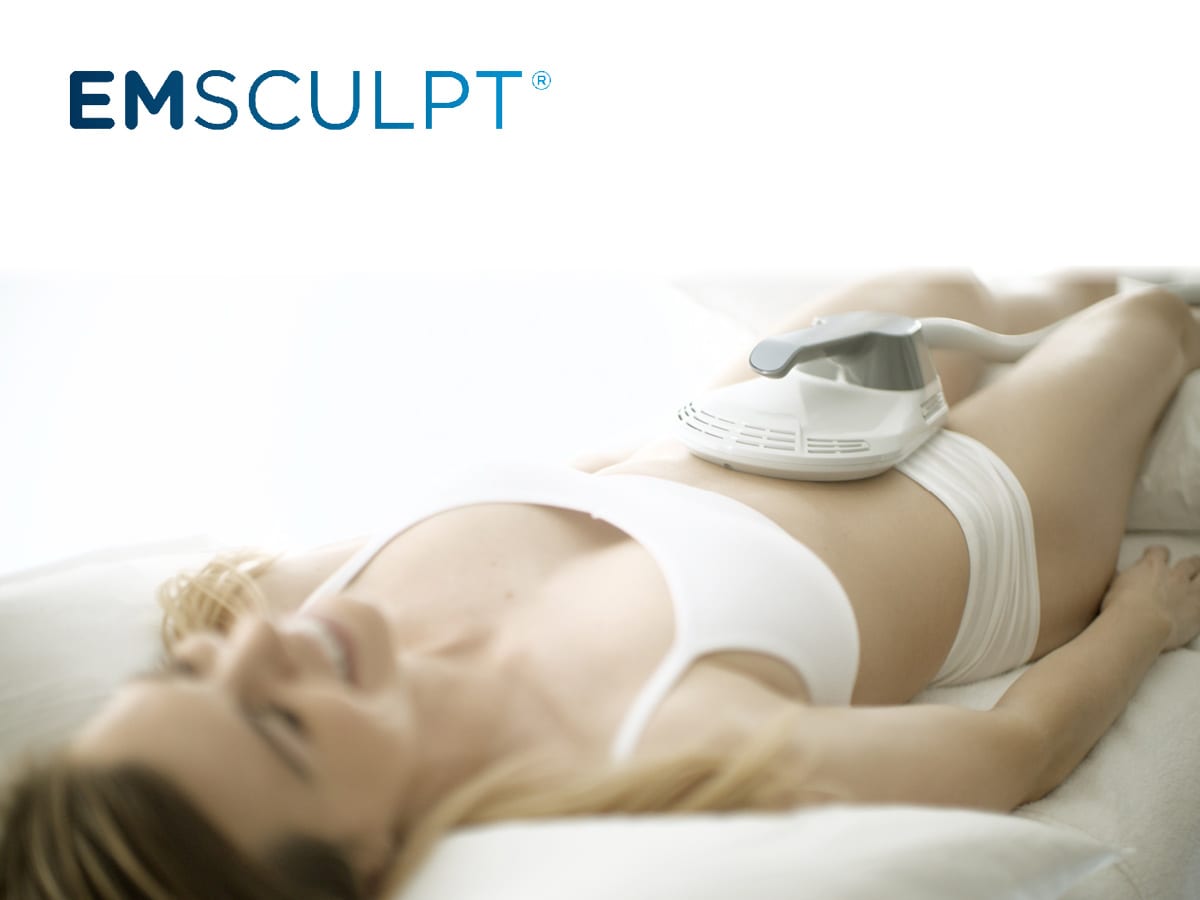 Tested in 5 unique abdominal clinical studies utilizing all 4 established methods of evaluation, including MRI, CT, ultrasound, and histology, EMSCULPT delivered consistent results after treatment, which included:
19% reduction in subcutaneous abdominal fat
16% increase in muscle mass
Average reduction of 4.4 cm around the waist
96% satisfaction with treatment results
Buttocks
EMSCULPT is also FDA-cleared to strengthen, tone, and firm the buttocks to provide a safe and completely non-invasive alternative to popular, yet controversial, surgical and injectable procedures.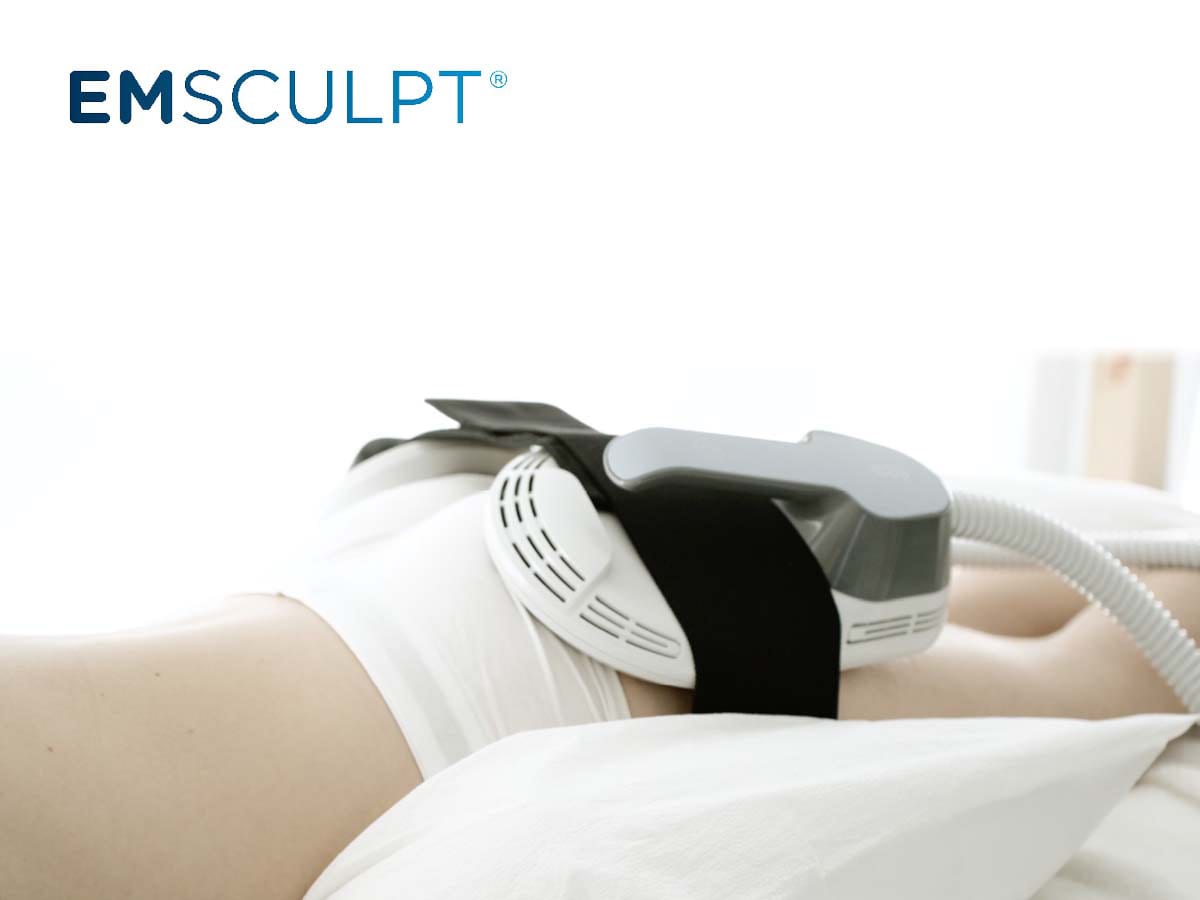 In clinical evaluations measuring the efficacy of HIFEM therapy for non-invasive buttock augmentation and lifting, patient satisfaction levels averaged high, independent of weight loss. Results included:
95.4% of participants reported satisfaction with treatment results
85% reported significant improvement in lift and muscular tone of the buttocks
Which Is Better: EMSCULPT or CoolSculpting?
While both EMSCULPT and CoolSculpting are noninvasive body contouring treatments, the best option for you depends on your cosmetic goals and unique anatomy. During your consultation, your practitioner will review the differences to determine if either EMSCULPT or CoolSculpting is better suited to you. We often have patients who benefit from both treatments.
EMSCULPT vs. CoolSculpting
Treatment
Benefits
Treatment Areas
Treatment Time
Recovery Time
See Results
Number of Treatments
EMSCULPT
Fat reduction
Muscle toning and building
Stomach
Buttocks
Biceps
Triceps
Calves
30 minutes
None
3 months
4 treatments over 2 weeks
CoolSculpting
Fat reduction
Double chin
Stomach
Upper back
"Muffin top"
Inner/outer thighs
Upper arms
30 minutes to 1 hour
None
2 to 3 months
1 to 2 treatments
How Many EMSCULPT Treatments Are Needed?
For optimal results, the Dallas Center for Dermatology and Aesthetics recommends 4 EMSCULPT treatment sessions of 30 minutes each over the course of a 2-week period. Best results will be seen after 3 months with continued improvement over a 6-month time period.
Some people choose to complement their EMSCULPT results with noninvasive EMTONE™ treatments to visibly reduce cellulite.
Does EMSCULPT tighten the skin?
EMSCULPT does not tighten the skin, so it is best for people with good skin elasticity. Nonsurgical Thermage® treatments may be used to provide mild to moderate skin tightening and complement EMSCULPT results with enhanced firmness and smoothness.
Will I need maintenance sessions after my initial round of EMSCULPT treatments?
We recommend maintenance sessions every 6 months if you don't work out and follow a healthy diet; otherwise, you will gradually lose the gains from EMSCULPT. Many patients are motivated to step up their workouts as they feel stronger and more confident.
How long will my EMSCULPT results last?
The gains in muscle mass and muscle tone from EMSCULPT last approximately 6 months. You will need to eat right and exercise to maintain these benefits or have additional EMSCULPT treatments periodically.
Are You Ready to Get Started?
To find out if this nonsurgical body contouring treatment can help slim and firm your abs and butt, request a consultation online or call (214) 631-7546 to make an appointment. When you schedule a consultation for cosmetic procedures, you will also receive a customized "Total Skin Rejuvenation" plan to help you achieve your ideal look.
Back to Top