Dallas Center for Dermatology and Aesthetics
8201 Preston Road #350
Dallas, TX 75225
Phone: (214) 631-7546
Fax: (214) 631-8546
Monday–Friday: 8:30 a.m.–4p.m.

Lip injections are a very popular treatment at the Dallas Center for Dermatology and Aesthetics. JUVÉDERM VOLBELLA XC improves your options for lip fullness and wrinkle reduction in the area around the mouth. While experiences vary, results with this product can last up to a year, which is significantly longer than other products on the market. Our office was the first in Dallas to offer JUVÉDERM VOLBELLA XC for the lips and the fine lip lines, and Dr. Stetler is a national trainer for the company; she shares her expertise by training other doctors in the best injection techniques.
To talk with us about JUVÉDERM VOLBELLA XC, whether on its own or in combination with our other dermal fillers, please request a consultation online or give us a call at (214) 631-7546 to schedule your appointment. Men and women visit us for lip injections with dermal fillers from across the Plano and Frisco areas.
JUVÉDERM VOBELLA XC

Before & After Photos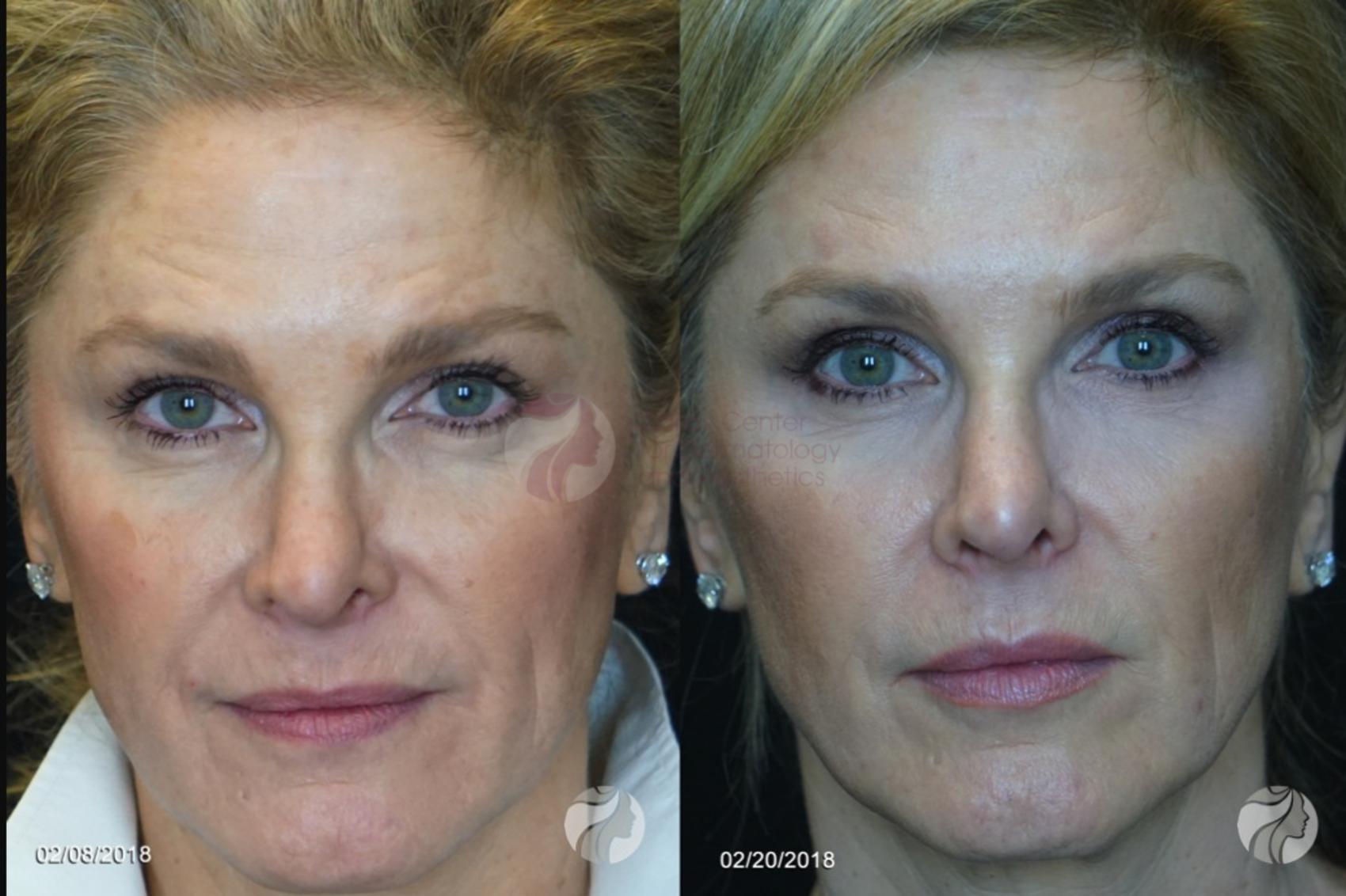 Before & After
Lip Enhancement and Lip Lines Treated with Volbella and Vollure
54 year old female desired lip enhancement and treatment of vertical lip lines ("smokers lines") and plural lines. She was treated with one syringe of Volbella to address vertical lip lines and Vollure to treat her lips and plural lines.
Read More
Keep in mind that each patient is unique and your results may vary.
What Is VOLBELLA?
VOLBELLA is a hyaluronic acid-based filler developed specifically for the lips and the area around the mouth. JUVÉDERM's hyaluronic acid (HA) products are known for their soft gel formulation. HA occurs naturally in the body, which means that the body readily accepts it when administered as an injection.
JUVÉDERM VOLBELLA XC differs slightly from other dermal fillers in that it has a lower concentration of HA. This unique formulation makes it best for adding subtle volume to the lips and gently smoothing the lines around the mouth. It smooths the surface of the lips, giving them fullness and shine, similar to lip gloss.
Approved by the FDA in 2016, VOLBELLA XC joins our existing JUVÉDERM products as another path to delicate, natural-looking results for facial rejuvenation.
Is VOLBELLA Right for Me?
The product or products chosen for your dermal filler treatment session will ultimately be a collaboration between you and your dermatologist, but it's worth broaching the subject of JUVÉDERM VOLBELLA XC if you're interested in either of these benefits:
Adding volume to the lips
Softening the lines around the mouth
If you want to combine these benefits with treatment of other areas of the face, such as the midface region, the cheeks, or wrinkles caused by crow's feet, your dermatologist will guide you in deciding how best to achieve your desired result.
Drs. Stetler and Polder are the first in North Texas to offer VOLBELLA!
What Happens During a VOLBELLA Treatment?
Plan to arrive 30 minutes before your appointment time for topical numbing, which helps with any discomfort during the procedure. Your appointment should only take about 15 to 30 minutes. Since VOLBELLA is pre-mixed with lidocaine, there is minimal discomfort. The amount of product used and the placement of the injections will be customized to your unique physical characteristics and goals. JUVÉDERM VOLBELLA XC, has reported results that last through one year in clinical trials.
When preparing for your treatment session, our dermatologists and support staff carefully consider your stated goals and develop a plan that may include the use of JUVÉDERM VOLBELLA XC alongside other dermal fillers or BOTOX® Cosmetic.
Each treatment has its unique advantages, and the best result comes from matching those advantages, our expertise, and your trust. We always do our best to earn that trust, and many patients decide to come back for further treatments when the results do eventually fade.
If you would like to learn more about any of the dermal fillers we offer, please read through the FAQ on our Dermal Fillers page for answers to common questions.
Back to Top