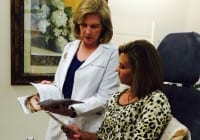 Laura Thornquist a known blogger in the DFW area (mydallasmommy.com) is going to be losing her summer tan and replacing it with a more healthy, youthful look with the help of Dallas Center for Dermatology and Aesthetics. Dr. Lori Stetler will be transforming her skin with Botox, skin care products and a few other non invasive procedures.
We invite you to follow Laura's journey along with us here.
Please contact us for more information regarding any of the procedures or products mentioned.