At Dallas Center for Dermatology and Aesthetics, our idea of skin renewal treatments might be a little different than the relaxing, largely surface-level spa facials you have in mind. While most treatments address the skin's surface, we offer treatments that rejuvenate your skin from the inside out. This post discusses some of our popular and effective skin rejuvenation treatments for getting your skin glowing.
Chemical Peels
If you are new to the world of facial treatments, chemical peels are a customizable and effective option for many different skin concerns. Your provider will apply a chemical solution containing acids such as glycolic acid, salicylic acid, or trichloroacetic acid that penetrates the outer layers of your skin. Your provider will help you choose the intensity of your peel depending on the skin concerns you want to improve.
For example, a light-intensity chemical peel can help with milder sun damage or fine lines. Deeper skin issues such as moderate lines and wrinkles or extensive sun damage will see more improvement with a medium or deep chemical peel that penetrates deeper into the skin.
Chemical Peels


Before & After Photos

Before and After TCA Peel

TCA Peel to Face and Neck to Address Brown Spots

Before and After Chemical Peel

TCA Peel to Improve Skin Texture and Decrease Brown Spots

59 Year Old female who desired improvement in overall skin texture and decreased brown spots. She underwent a 35% TCA peel to her face and a 25% TCA peel to her neck.

Keep in mind that each patient is unique and your results may vary.
What Skin Concerns Can You Improve With a Chemical Peel?
You can improve the following skin concerns with a chemical peel. Remember, you may need several sessions to get the results you want.
Fine lines and wrinkles
Acne and acne scarring
Sun damage
Age spots and discoloration
Hyperpigmentation
You can choose from a Melanage Peel, Melanage Mini Peel, glycolic acid peel, salicylic acid peel, and trichloroacetic acid peel, available at our med spa.
Microneedling
Microneedling is a facial treatment that uses fine needles to penetrate the surface of the skin to stimulate the skin's natural healing response. This action increases the production of collagen and elastin in the treatment area so you can enjoy smoother, firmer skin. Microneedling can include radiofrequency energy or exosomes from your own blood to enhance treatment and results.
You will typically need 3 to 6 microneedling treatments spaced at 4-week intervals. This treatment is safe for all skin types and can easily be combined with other facial treatments.
What Skin Concerns Can You Improve With Microneedling?
Acne and surgical scars
Enlarged pores
Wrinkles
Stretch marks
Fine lines and wrinkles
Texture
IPL Photofacial
Intense pulsed light, or IPL photofacial, is one of our most popular options for treating common signs of sun damage. During this treatment, focused, intense beams of light are directed to the skin, where they break apart areas of hyperpigmentation. IPL is also effective at treating areas of redness and fine lines. There's also the ancillary benefit of temporarily removing hair where it's administered.
IPL is entirely noninvasive, and it's administered with a topical numbing cream to keep your skin comfortable during the brief appointment. Depending on the condition you'd like to treat, you may require a series of up to 6 treatments. You can expect your results to potentially last for many months, especially if you maintain good skincare and sun protection habits.
IPL Photofacial


Before & After Photos

Before & After

Case #36

This woman wanted to reduce the brown spots and freckles on her face and improve her skin texture due to sun damage. After a series of treatments of Fotofacials (Intense Pulsed Light) she was able to even the skin tone, decrease the number of brown spots, and improve the overall appearance of her face.

Read More

Before & After

Case #37

Brown spots from aging and sun damage were a concern for this middle aged woman's chest. She wanted a treatment to help smooth her skin in that area. The Fotofacial or Intense Pulsed Light treatment series helped reduce the number of her brown spots and improve the overall appearance of her skin dramatically.

Read More

Keep in mind that each patient is unique and your results may vary.
What Skin Concerns Can You Improve With IPL Photofacial?
Age spots
Pigment irregularities
Small blood vessels
Rosacea
Fine lines
HydraFacial MD
HydraFacial MD is a patient favorite because it's a comfortable, nourishing, relaxing treatment that makes a great addition to virtually any skincare regimen. HydraFacial uses a special 4-step process to painlessly extract, exfoliate, and deeply nourish and hydrate skin. Using a customized blend of serums, HydraFacial can be tailored to a variety of skin types and conditions, including uneven texture, oily skin, acne, and dry skin.
Our patients say they find HydraFacial to be deeper and more intense than a spa facial, but gentler than laser or light procedures. HydraFacial typically leaves skin glowing and soft, making it especially useful before a special event. The results of HydraFacial can last for several weeks.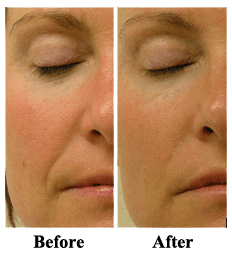 Photos Courtesy of HydraFacial MD®
What Does a HydraFacial Improve?
This facial treatment can improve the following skin concerns.
Fine lines and wrinkles
Skin tone and texture
Brown spots
Enlarged pores
Acne
Dry skin
There is no ideal facial treatment that transforms every skin type. That is why we offer a range of effective facial treatments so we can create a customized plan that's right for you. Our patients rave about their excellent and long-lasting results, which you can see in these before and after photos. If you are ready to experience glowing skin, request a consultation or call us at (214) 631-7546 to schedule an appointment.